Why You're Not Getting New Doula Clients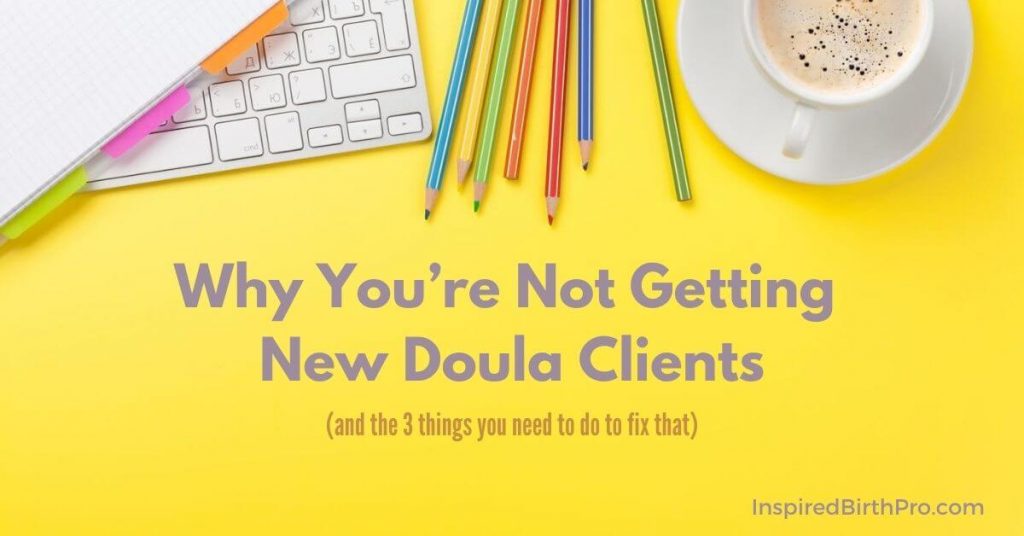 Whether you're just starting out as a doula or you've been a birth professional for a while, at some point or another, you're likely to ask the same question:
Why am I not getting clients?
Here are three questions to ask yourself and get back on track:
1. Am I visible?
In order for people to hire you, they need to know that, well, you exist.
So, what are you doing to let people know you're open for business and available to hire?
If you have a website, understand that your site is your online home. It's important. You definitely should have one. But if people can't easily find your website, you're not visible. Your website is where you want people to eventually end up when they find you.
The key phrase here is… When. They. Find. You.
The only way your ideal clients will be able to find you is when you take action to make yourself visible them. What are some ways to do that? You could:
Learn simple SEO techniques so that your website has a better chance of being found in Google.
Start a blog to create more content on your website that search engines can catalog and queue up when people are searching for what you blogged about.
Help more people learn about your blog content by sharing it on social media, Pinterest, and your email list.
Seek out guest spots on podcasts.
Develop and execute a marketing strategy for your Facebook or Instagram business pages.
Build a free online community with a Facebook group.
Create and nurture a fan base that will enthusiastically sing your praises.
Identify easy ways to advertise your business around town on your car, the shirts you wear, business cards you hand out, local events you participate in, and company-branded items you give away.
Let everyone you know what you do – friends and family, people you work or volunteer with, and local communities that you're a part of such as church or recreational groups.
If you primarily work with clients in your local area, you can also build awareness about you and your company by creating ways to become more visible in your community through business networking groups or collaborations with other professionals who also work with your ideal client.
2. Am I connecting?
Starting and growing a family is an intimate affair. To be allowed into one's circle during pregnancy, birth and the postpartum period is sacred and holds with it a big sense of responsibility. Families need to trust the birth workers that they bring into their circle.
So, as you're working on your visibility, the next question to ask is, "Am I connecting with my ideal client?"
There's a two-step process to this. When you're communicating with your ideal clients, you want to:
 1.  Be viewed as an authentic, credible thought leader by sharing your knowledge and talking about how you've helped your current and past clients, and
2.  Show that you're relatable as a fellow human. Share personal anecdotes that you can tie to your business. Give people a sneak peek behind-the-scene stories or let them in on some of the fun that's happening in your life.
Connecting with your ideal clients help them to get to know, like, and trust you before they hand over money to you to work with them. How? By providing ways for them to hear what you have to say about what you do, how you do it and how it benefits your clients. And there are a number of ways to do it – online through social media, blogging, podcasts, YouTube, or in person through public speaking, expositions, or talking one on one with people.
In addition to connecting with people who will become your clients, connecting with potential referral partners gives you another avenue from which to attract clients. Networking groups, colleagues and professionals who serve similar clients are all great resources. Take the time to really build relationships with other business people and find ways to support each other's businesses through referrals. Whether you're connecting with referral partners or your ideal clients, the more personal you can make your interactions, the deeper your connections will be.
 3. Am I making offers?
When you and your business are more visible, you begin to pop into your ideal clients' consciousness more often.
However… they may not know about the actual services you offer. Or, maybe they need a bigger nudge to get in touch with you to talk about working together or even just connecting with you in different ways.
So, letting people know what you do, telling them what paid services you have, and inviting them to work with you is required. The goal is to be making offers (aka Calls to Action) daily. A few examples of calls to action include:
A quick post on social media or an email to your mailing list telling people about your newest class or sharing what your availability is for births and to book now.
Following up with someone you've been talking to about your services.
Responding to an email that asks a simple question with a brief answer and an invitation to work with you.
Announcing that you're offering a new service and sharing a link.
Making an offer can also include invitations to experience your free content, but make sure that those freebies lead to an offer to work with you. Some ideas for you are:
Posting a story on Instagram about a special you're running.
Inviting people to sign up for a freebie, see you talk somewhere, or join your email list.
Sharing a link to a new blog post you wrote or a podcast you were featured on.
And finally, making an offer includes asking for referrals and testimonials from your clients and biggest fans. Testimonials help you build more trust with your audience, and a word-of-mouth referral is the most powerful testimonial and one of the easiest and best ways to attract your ideal clients.
The first time someone sees your marketing message will likely not be the moment they call you to sign up for your services. The Marketing Rule of 7 states that it takes an average of seven interactions with a brand before they buy your product or services. Some say with the internet and social media throwing so many marketing messages at us, it takes more like 20 times before someone buys your services. I recently read that it could really be more like 77 times.
Okay then. Now you know what you need to do.
Increase your visibility.
Improve your connection with your ideal clients.
Offer your services and/or products at least once every day.
What came up for you when you asked yourself those questions? Do you know what's missing in your own marketing plan? To dive in a little deeper and identify new strategies to attract more clients and more income, request the Unknown to Booked Out workbook right now so you can create your own client attraction roadmap!