7 Ways to Attract Clients to Your Birth Business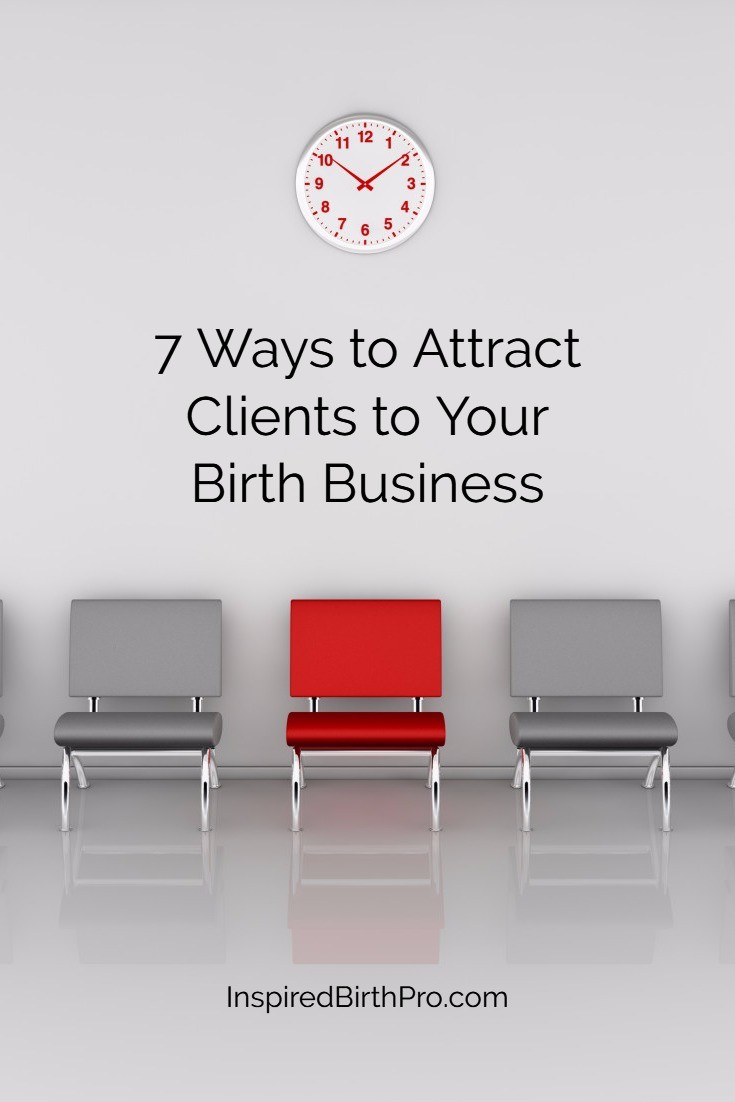 Client attraction is a hot topic and one thing that continues to pop up in the emails I'm subscribed to, the theme that marketers and business coaches are always talking about is visibility. They don't say the word "visibility," but think about all the actions that the gurus are telling us to take to get in front of people – Facebook Live and Periscope, webinars, blogging, social media – everything we're being told to do goes back to how we can be more visible, so people can experience us. In the online world, it's all about reach and engagement.
There's no doubt that your website, social media and other tools like webinars and podcasts can get the attention of potential clients, but since most birth professionals' clients come from within their local communities, let's talk about ways to reach more people closer home.
Now in marketing, a visibility strategy refers to reaching out to large audiences at once, typically through advertising (like Facebook) and big events (speaking engagement at a convention). Distributing brochures and your website also fall into the visibility category. Two other marketing strategies to consider as you come up with your marketing plan are outreach and credibility strategies. Examples of outreach strategies are calling someone or meeting 1-on-1 or in small groups, where you can personally connect with potential clients. Finally, credibility strategies help you position yourself as an expert. Guest speaking opportunities, news stories, testimonials, and blogging are just a few of the ways you can raise your status as an expert in your field.
As you figure out the actions you want to take for each strategy, you're sure to find that several actions might fall under multiple strategies. For the most part, if you are focusing on attracting local business, you'll want to use more outreach approaches that give you personal interaction. You'll definitely want to use credibility strategies, and visibility strategies will be in play when it comes to optimizing your website for local searches and using advertising and large events to expand your reach.
At this point, I hope you have already identified your ideal clients and the problems you solve for them. Once you do that and figure out where your potential clients hang out, you need to go out and connect with them. Forget driving around town leaving business cards at local businesses. I want you to make a list of ways you can get in front of real live people. Here are some suggestions to get you started.
Baby fairs and related expos that target expectant moms and young families. Set up a booth, offer something of value that people can get by signing up for your mailing list.
Meet-ups and groups of pregnant women and mothers. Make contact with group organizers and see if you could be a guest speaker. Share with them a brief list of topics that you could talk about. It doesn't need to be about "Benefits of having a ___________." Tune into your audience. What engaging topics are exciting to you and could be related to what your work is? What problem do these women face that you could give a 30-minute talk about?
For birth doulas, many training organizations require sitting in on a childbirth class series. While the point is not to be in a class to sell yourself, many childbirth educators may let you introduce yourself and talk about what you do, and you may get to know some of the students during the course who may just want a doula. Attending classes can also help you build a rapport with the instructors who may end up referring business to you (and you to them), so arrive early, stay late, help the instructor with whatever she needs, and make a genuine effort to get to know her.
Create your elevator pitch and have business cards available in your purse and car so that when you're out and about and someone asks, "So what do you do?", you'll have an answer that intrigues people and gets them to ask more questions.
Contact local providers and see if you can come in and do a lunch and learn for their employees. Bring in lunch and hold a presentation about what you do and the benefit of your kind of care. Find out whether they give out business cards and brochures in their packets of if they have a list of resources/providers that you can get on.
Frequent local online forums or Facebook groups (or start your own) and start participating. Take note of what women are talking about over and over again. Be of service by answering questions. Become that helpful group member that others start noticing, to the point where they begin clicking on your name to find out who you are. Your Facebook page and/or website better be linked in every social media bio and forum profile so you're a click away.
Join your local birth pro organization and take part in any community events where you can present and meet the public.
In addition, you will want to make sure to spend time optimizing your website's content so people who are looking for your services can find you, and I also highly recommend you have a mailing list that people can sign up for.
Remember the rule of 7 in marketing, where a person needs to see or experience you at least 7 times before they consider hiring you. So, a woman might see an ad in the local parenting magazine about a talk you're doing in a week (1). A couple days later, a friend of hers on Facebook shares your event, so she RSVPs(2). She attends your event (3), loves your talk and hears about a great checklist you're offering that she can get by signing up for your email list (4). You add her to your email list and send her the free checklist (5) and also tell her you've got some related information on your blog (6). She goes to your blog and learns more about you and sees you have a Facebook page, so she goes and likes it (7). She continues to get emails (8, 9, 10) and occasionally sees some of your Facebook posts and at some point decides to contact you about your services. See how this all works together?
It's all about letting them get to know, like and trust you. A varied combination of visibility, credibility, and outreach strategies are really important, and you need to take consistent action so people can experience you multiple times. Some people will love you and want to hire you the first time they meet you, and others may be on your mailing list for a year before they're ready for your services, so keep finding ways to serve not only your clients but those who will be your future clients.
Client attraction is about finding your people and letting them get to know, like and trust you.
Click To Tweet
If you need some additional support, join the Inspired Birth Pros Facebook group to connect with some awesome women who are also growing their birth businesses.