How to Choose an Awesome Doula Business Name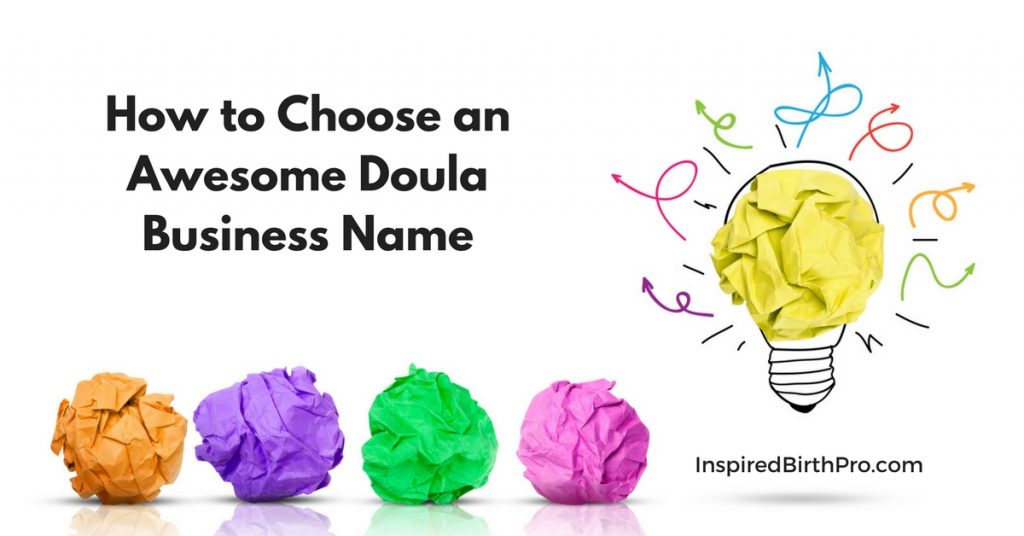 When you are becoming a doula or other birth professional, what should you keep in mind when deciding on a doula business name? Here are 8 tips that may help you:
Your business name should clearly describe what you do. If you are a birth doula and you plan to offer other services in the future, think about whether you want "birth doula services" to be part of your name. Think long term.
Is your business name a reflection of who you are? Consider your birth philosophy and whether you want to reach out to a particular audience. Do you only want to work with teen moms or women with high-risk pregnancies? Make a list of words that describe your philosophy and the types of clients you want to work with. Include the name of your city. Create a list of adjectives that describe how your clients will feel when working with you.
Is your business name easy to remember and spell? Names that are too long or have tricky spellings may make it difficult for people to recall your business name. Long names can also be cumbersome as website domain names.
Does your business name set you apart from your competition? What name helps you stand out among others in your area?
Consider using your own name as part of your business' identity. What easier way to brand yourself than by using your own name? If your name is difficult to spell, it may be better if you don't use your name.
One way to brainstorm business names is to make a list of benefits your clients would experience from using your services. What would really strike a chord with your potential clients?
Whittle your choices down to two or three business names. Once you have chosen a few names, you will need to see if that name is already taken. A Google search is a good way to check. You will also have to check with your local government to see if the name is available in your state when you apply for your Assumed Name Certificate. You will also want to see if the website domain for your business name is available.
See how others respond to your business name. Tell your friends about the name of your business. Wait a few days, then call them back and see if they can remember what the name was. Could they remember it? Is it a memorable name?
Sometimes, the best way to come up with what to call your doula business is to wait for your intuition to give you one when the time is right. You might find this happens while you're driving or taking a shower! In the meantime, you can always just go by your full name.
As you are starting out, there is no tremendous rush to figure out your business name. As a sole proprietor, you can file your federal taxes using your social security number and full name.
For more on the technical and legal aspects of choosing a business name for your doula business, Brent of New Beginnings Doula Training wrote an article on the subject.
Since you're here, you're probably starting a new doula business, so here are some other posts that may interest you!
How to Write a Simple Business Plan for your Doula Business
5 Myths about Starting a Doula Business
Life After Doula Training – Research Requirements to Start Your Business