Inspired Birth Pro Shop
Welcome! In this shop, you're going to find resources to help with three of the systems you need for a strong birth business – Your client attraction system, client system, and business finances system.
Client Management System
Need to get your client paperwork in order for your birth doula practice? Most of these forms are customizable in Word so you can edit them to suit your preferences and practice. For additional tips on how to organize your forms, see my post on organizing client files.
Client forms help you organize your workflow and notes while working with clients.
Includes workbook to help you map out your practice policies to include in your contract.
Client form + client intake form templates for you to customize to fit your business.
Send client intake forms after they sign your contract to collect information before your first prenatal.
Client Attraction System
The biggest challenge birth professionals have is attracting new clients. You can get lots of tips on Inspired Birth Pro to help you develop and carry out your marketing plan. Here are some products to help with content creation to help your ideal clients learn more about you and your services, along with a simple follow-up system for when you start interviewing with potential clients.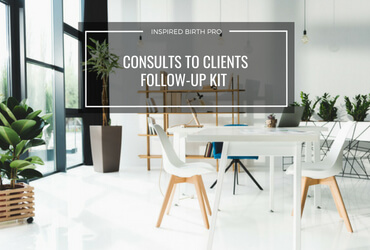 Get template emails and a timeline for following up with clients after the consult.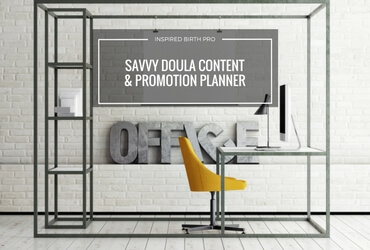 Brainstorm content themes for social media, email and blog posts.
Online course for birth pros who want to learn how to blog for their birth biz
Business Startup
Starting your birth business can be overwhelming and there are a lot of moving parts. These products will help make the startup process easier.
This step-by-step list will help you get your birth business off the ground. Helpful for any birth pro, whether you're a birth or postpartum doula, childbirth educator, or most any other kind of small business owner.
This free resource library has a variety of downloads and resources to help you start and grow your birth business
Every interview I have had since I started with the Savvy Doula forms I have BOOKED. I honestly think a good reason why is the professional letters and forms! Thank you! Your stuff is golden.
I purchased the Savvy Doula Startup Kit + Prenatal Meeting Planner and I am so happy with it! It is so much more than I was expecting! I was hesitant to purchase at first, thinking I could save money by creating my own forms, but as a brand new doula I would have never been able to come up with so many great forms and resources on my own. I was able to save so much time by purchasing the kit. It is obvious that years of experience and planning have gone into the startup kit and prenatal meeting planner. This purchase was well worth the investment!
Savvy Doula products put a structure to my ante natal appointments and gave me the confidence to be the best doula I could be for my clients. <3
The Savvy Doula Start-Up Kit and Prenatal Meeting Planner forms were a God-send! Thank you, Darlene for putting in the hours to create these excellent forms. I am a new doula and received a few requests from potential clients after having put up my profile on a popular doula website. I panicked when I realized that I didn't even know what to specifically review during my prenatal meetings! These forms are a great launching pad for my business. I now feel more confident as a doula and businesswoman knowing that I can provide superior service in all aspects now that I have great templates to work with to help organize my work and discussions with clients. Truly, thank you! 🙂
These forms and the website overall content is fantastic! So well done and very helpful! Glad I found it!
I felt a little lost thinking about all the things I had to do in order to start my doula business and start working with my clients. The Savvy Doula Startup Kit helped me feel confident that I wouldn't forget anything on either the business side of things, nor with my client care. The confidence was definitely worth the investment!
So helpful! Juggling a full-time job and trying to start my new doula career, this made my life so easy! Thank you so much. So grateful!