13 Resources for Free Childbirth Education Materials and Handouts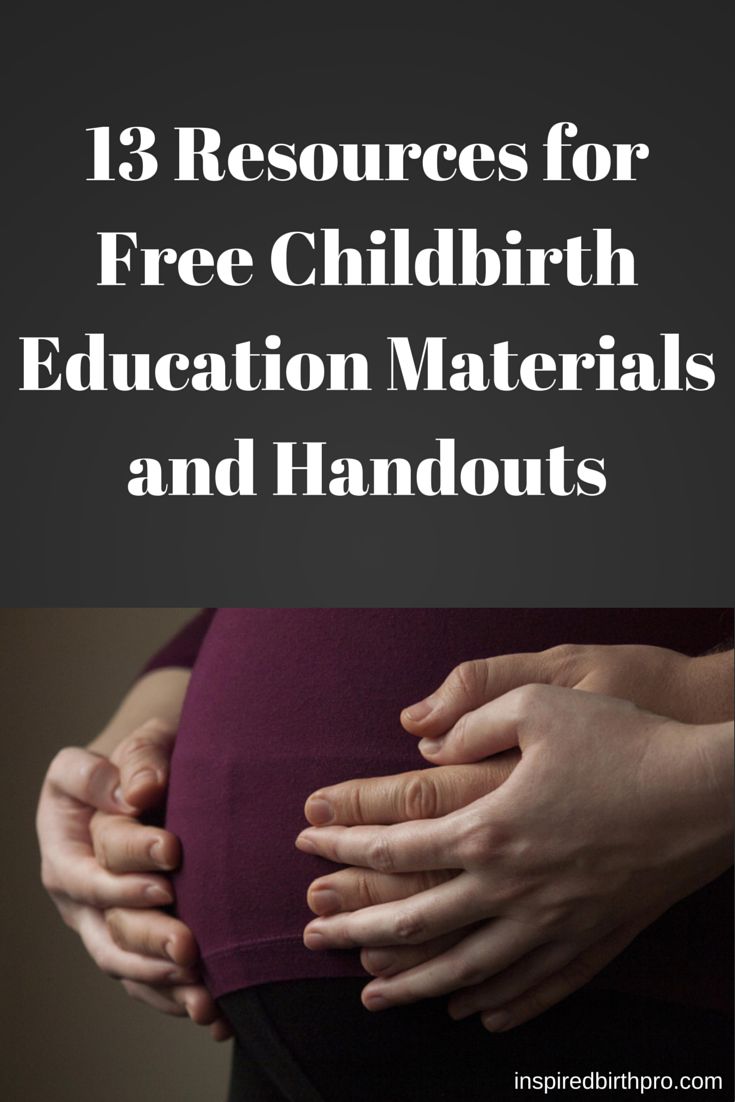 As a childbirth educator, you want to make your classes your own. However, there is no reason to completely re-invent the wheel. Here are 13 websites whose owners have generously published downloadable childbirth education handouts for your use. Be sure to read through each site to find out whether you need to contact any of the site owners prior to using the materials.  Also read through all articles that you plan to use thoroughly to ensure that all the information being shared is based on current research and evidence. (And if you're a birth doula, a lot of this information can come in handy to give to clients during prenatal meetings!)
Handouts and Homework from Transition to Parenthood –  Janelle Durham shares various forms to obtain feedback from students, class reviews, summaries of material she covers in classes, and even homework assignments.
Brilliant Activities for Birth Educators from Lamaze – There are a growing number of blog posts featuring tried and true activities to make your childbirth classes or your doula prenatals fun. Keep checking back here for new activities.
Maternity Care Fact Sheets and Decision-Making Tools from Childbirth Connection – You can find a printable version of Childbirth Connection's Rights of Childbearing Women here. There are also some useful fact sheets and lists of questions that can be posed by your clients to a midwife, physician, doula, or on a hospital or birth center tour.
Handouts from Penny Simkin's Site – From the wonderful Penny Simkin, her site gives you access to several printable files, including the ever-so-helpful Comfort in Labor handbook (located in Articles and Handouts).
Lamaze Six Healthy Birth Practices and Other Handouts – InJoy provides a great PDF file with each of the Lamaze Six Steps to a Safer Birth. There are also several other downloadable files that you may want to share with your students or clients. The Mother's Advocate website also has video links of the Lamaze birth practices that you can share. In addition, you can also find Spanish versions of all these resources.
Breastfeeding Tips and Handouts from Ameda – Find a pumping log, breast milk storage guidelines, and a few other handouts. They appear to be designed to go with their own products, understandably, but there is still some helpful information. In particular, Ameda offers a copy of the card that accompanies its BellyBalls Educational Tool. You can easily create your own useful teaching aid by rounding up your own marble, ping pong ball and plastic aid. Be sure to follow the link at the bottom of this page to access Ameda's permission form and request clearance to use these materials in your classes.
More Breastfeeding Handouts from Medela – Medela offers even more breastfeeding handouts on topics such as Sore Nipple Management, Breast Engorgement, and Working and Breastfeeding.
Evidence Based Birth Handouts – Submit your email address at this site to receive access to handouts and receive email updates of new ones. There are also additional handouts available for purchase here.
Handouts from Birth Arts International – A variety of handouts on educational topics like aromatherapy and herbs for pregnancy and labor, preeclampsia, nutrition, and more.
Handouts from Best Doulas – An extensive list of PDF files on topics covering cesareans, healthy pregnancy, choosing a health provider, birth plans, inductions, breech babies, multiples, and VBAC.
Handouts from Childbirth Professionals International – Find a number of handouts on waterbirth, creating affirmations, teaching informed consent, and more. It looks like they periodically add new handouts too.
Handouts from Better Birth Blog – Sign up for the mailing list and you'll receive three free handouts plus exclusive access to new handouts as a subscriber. Also, check out the online shop for a variety of beautifully designed handouts.
Toolkit to Support Vaginal Birth and Reduce Primary Cesareans – Created by the California Maternal Quality Care Collaborative (CMQCC), the CMQCC website's description says this toolkit "is a comprehensive, evidence-based "how-to" guide designed to educate and motivate maternity clinicians to apply best practices for supporting vaginal birth."
Do you know of additional free resources? Please comment below! You can also see many of these and other great resources on the Inspired Birth Pro Childbirth Education Board on Pinterest.
Looking for additional free resources for your birth business? Here's another blog post: