The Business of Being a Postpartum Doula
Betsy Schwartz has returned as a guest contributor to Inspired Birth Pro! The first time she visited, she shared ten secrets to being a successful postpartum doula. This post has since become one of the top 10 posts on IBP, so there is a clear desire for more tips for postpartum doulas.
This time, Betsy is sharing practical advice for new postpartum doulas that are starting their businesses. She also has a brand new online store with intake forms and a contract template specifically for postpartum doulas.
Previously, I wrote about my Top Ten Secrets to Being a Successful Postpartum Doula. Those were tips about ways of being, and what to know about, and where to find out about what you don't know.
Let's now talk about the business side of postpartum doulaing.  This is another hat you wear when you are a postpartum doula. You can be really great at what you do, and may or may not have ever run a business, or marketed yourself to others.
Here is what I know, and what I have learned over the years, that works.
1) Determine all the services you wish to offer
Typically, postpartum doulas offer guidance (newborn behavior, breastfeeding, daily infant care), education and practical support (cooking, laundry, sibling care, errands), and resources. If you have other certifications or degrees that make you stand out, you can add that on.
For example, nutrition, herbs, massage, Reiki. These are all additional services you can charge for. Be sure to make it known, and be current with your education and insurances (if required). Also, check with your certifying organization about what they have to say about other services.
2) Meet all the doulas, birth educators, home health workers, midwives, nurses, hospital and birth center staff, pediatricians, obstetricians, lactation professionals, and all others who are in touch with new and expectant families
These contacts are what will drive your business. Personal connection is important. Of course we have social media, and nothing replaces true live connection in your own community.
• You can arrange a lunch (bringing it to docs works like a charm)
• Bring flyers or business cards for waiting rooms
• Offer to do a talk or educational session for clients or patients
• Ask educators about attending one of their classes to introduce yourself
• Attend health and baby fairs locally
3) Create your own code of ethics
This does not mean to ignore the one from your certifying body, if they have one. Creating your own code is you choosing what you can support, and not support in a non-judgmental way. You always want to support your client's choices, and offer all the information they are asking for.
However, it is important that you know where you stand with your own morals, and values. Let this be one of your guides to accepting or not accepting a client. Many postpartum doulas take on any and all clients that call. Others only work with breastfeeding Moms. I do not recommend compromising your own values in an effort to support another. In the beginning, you will have a much richer experience by serving many different families with varying lifestyles and choices. This will help you determine your code.
4) Establish your rates and hours of work
This is a question that comes up a lot. How much do I charge? How many hours do I work? Do I do nights? Only days? More for twins? Less for more hours purchased? Packages?
I recommend learning what the going rates are in your area. Use that as a guide. New York City doulas could be charging $50/hr. If you live in rural Alabama, that rate is probably out of sync with your local economy. Establish your own worth. Reflect on your experience and education to date. Take into account the expenses you will incur on the job such as gas, child care, copying educational materials, education, and anything else.
Unlike birth doulas, postpartum doulas can establish the hours they want to work. You can do days only, or nights only. You can combine. This is determined by when you want to work, and other obligations you have.
There is not a need to be on-call for weeks on end. You can ask your clients to let you know when their baby is born. Be sure you are on the call or text list. That way you have a day or two to plan. You can be on call if you want to be. There is nothing wrong with setting boundaries, with phone hours, and texting, and communication.
Originally, postpartum doulas filled in the blanks. Three to five hours per day, maybe every day or a few days per week. It seems now that many mothers want more full-time help. Again, your choice. How much do you want to work? Are you being a postpartum doula or a baby nurse?
Many doulas offer packages, with more hours equaling less per hour. Check out the doulas in your area, and elsewhere and determine what will work for you and the clients you are serving.
5) Choose your back-up
This is critical. When you are expected to serve a new mother, it is your obligation to be there or replace yourself if needed. You don't want to put yourself in a position of being the only one, and then having your car breakdown, leaving a new mother stranded in her possible anxious state. Find someone you connect with, another doula on the path, that shares a similar philosophy and that you can trust. Let your client meet this person and feel comfortable.
If you live in an area where there aren't any other doulas, or they are spread out, let your clients know this. You are paving the way for doulas. I got started this way. My Mom was my back-up!! There was no certification for postpartum doulas in those days in the early 90s.
Let your clients know you will be there no matter what, unless you have an emergency. When you are up front and honest from the beginning, you have established trust.
6) Protect yourself with a contract
When I got started I shook hands with my clients. No contract. Once I got taken for money the first time (of a few times over ten years), I wrote a contract. It doesn't have to be complicated, or lengthy.
The contract does several things:
Establishes agreed upon services
Fully discloses rates
Guarantees client you are available for them
Gives you guaranteed income
Allows you to say yes or no to other clients (similar due dates)
Creates cash flow with deposits for future services
This doesn't mean you still can't be flexible. There are some postpartum doulas that will refund deposits if things shift dramatically for clients. Others keep the deposit, no matter what, as they state in their contract. For example, the mother who could not come suddenly makes room on her calendar to be there for her daughter.
The problem is that you have cleared your calendar and refused other clients (losing income) to serve this family. What you do about it is your choice.
You can also take people to small claims court. I never have. The handful of times that people didn't pay was some dissatisfaction of services rendered, and they were small amounts of money. Again, your choice as to how far you want to go.
I view the contract more as a written handshake. Most people are appreciative of your services, and are hiring you for the support they anticipate needing. That is why clear expectations of the dos and don'ts are so important in the contract.
7) Screen clients on the telephone
This saves time for everyone. The key here is to ask the questions that help you determine whether you want to work for this client.
If you have pet allergies, or are afraid of big dogs, ask your clients if they have pets, and share about them. Right away you will want to refer if you are not fully equipped to deal with their pets.
My biggest lesson with this was when a client called last minute, and I sent a doula to work. There was smoking in the home, and no matter what the doula shared about the dangers, it didn't stop. The doula was also getting very sick from the smoke and I took her off the job.
After that, I always asked if there was smoking in the home.
Basically, this goes back to your personal code of ethics, and also your health and safety. You want to be clear that you can offer the non-judgmental support, and be protecting yourself as well.
8) Maintain an online presence
This is a given in today's world. Social media can be a huge learning curve, and can be as fun or as daunting as you make it. I recommend picking one or two platforms where you are comfortable, and where your target market hangs out.
Learn all you can about these platforms.
What kinds of posts attract the most attention and conversation?
Are you looking to create awareness, or are you asking people to take some action?
What is the best time of day to post?
Is there a scheduler that could help you organize?
Do you want to hire someone to help you with this?
How much time do you want to spend online vs. live connection?
Nothing beats a website. This is your storefront, where you can send people to go look, and learn more about you, your mission, your business. From experience (starting when websites could only be built with HTML coding), you will likely make changes periodically. Keep it simple, crisp, and easy to navigate. There are many easy templates, and website builders. Ask others, and find one where you won't have to hire out for every fix and change. Create a budget for this.
9) Take a business class or find a S.C.O.R.E. mentor
If you have never run a business or have lots of questions about legalities, accounting, and business plans, find an online course, or a local one. Connect with Darlene one on one, for strategy and support. You do not have to feel like you are on an island alone.
S.C.O.R.E. stands for Service Core of Retired Executives. Many community colleges house the S.C.O.R.E. office. Check out their website for more information. When you make an appointment, they will find you a mentor that best suits your needs. It is always FREE. Take advantage if this is available to you. They can help with business plan, guide you to financing, and point you in the right direction.
You do not have to immediately become incorporated (LLC, S-Corp., C-Corp.). This will depend on your personal financial status, and tax status. There are advantages to doing this, and it is not advantageous for everyone. Do check in with your accountant for advice.
When I started, I became a sole proprietor. This involves choosing a name, and filing it with the state or county where you reside. I picked the name Tenth Month Doula Services. Officially, I was Betsy K. Schwartz doing business as (DBA) Tenth Month Doula Services. This is a simple way to pick a business name, other than your own name. This worked for me in the beginning.
10) Check in with your strategy and goals and repeat often
With any business, there will be times when something isn't working. Evaluate what you are doing with marketing and networking, and social media. Find a way to track your time and effort so you know what makes sense to keep doing.
Technology changes so quickly, it can difficult to keep up. Carve out some time for you to learn what's new, and to reformulate a plan.
Be sure your resources and referral contact information is up-to-date. You want to be giving your clients accurate information, and be referring to people that are still in business.
Focus on what is working, and change what isn't. You can do this every few months, or every month, or twice a year. Just do it. Working on your business is different than working in your business.
Some of this process may involve self-reflection. Perhaps, you handled a specific situation in a way that you aren't feeling great about. When you are able to remove the judgment or negative self-talk, you can create a new strategy for the next time the same situation arises.
Know what your strengths are, and know when to reach out for support from someone who knows a little more than you do, about something you are challenged with. It's a great way to connect with like-minded people, and get the help you need.
Your business is you!! It is about standing out, not fitting in. Embrace your own personal style, and share your big why with your clients. Come back to your why when you have moments when things aren't clear.
It is most often in the moments when we step back from a challenge, question, or situation that the answers become clear.
For the Postpartum Doula Biz Pack you can go to Birth In the Know.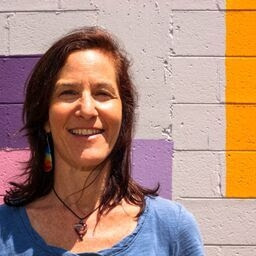 Betsy Schwartz is a pioneer and a visionary, who began her career in 1991, working for one of the oldest postpartum doula services in the country. She established her own doula service, Tenth Month in 1994 in South Florida. In 2016 she published her original board game, Down the Canal.
Betsy holds a master's degree in management of human services, and was a DONA postpartum doula trainer for fourteen years, and before that a CAPPA trainer.
She is a certified postpartum doula, certified lactation counselor, a Reiki Master and a yoga enthusiast, Betsy is also active in transformational work through Gratitude Training.
She now resides in Citrus County Florida where she is actively involved in community collaboration as part of the Citrus Committee of the Florida Healthy Babies Initiative.
Betsy and her husband, Steve, and dog Moses have plans to hit the road and be full time RVers, sharing Reiki, Down the Canal, and fun and adventure.