Resources for The Brewer Pregnancy Diet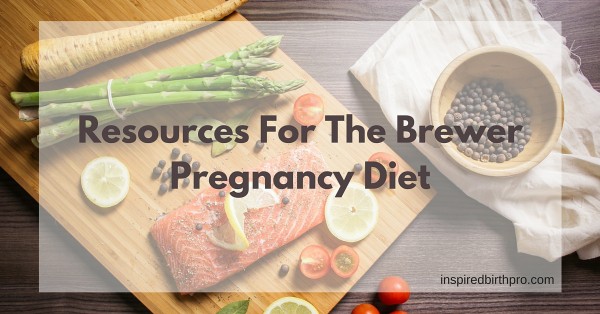 Dr. Tom Brewer was in medical school in the late 1940s when he realized the connection between malnutrition in pregnancy and conditions such as pre-eclampsia and eclampsia, hypertension, edema, placental abruption, low birth rate, and other complications during pregnancy. He learned that low blood volume and nutritional deficiency were primary factors in the development of all these conditions. In working with women in poor areas, he developed the Brewer Pregnancy Diet that focused on good nutrition through whole foods. Uncommon for that period of time in obstetrics, Dr. Brewer did not have women restrict weight gain; instead, he instructed women to eat 2600 calories per day, 80-120 grams of protein, salt to taste, and lots of water. In the populations Dr. Brewer worked with, he saw tremendous improvement with changes in diet, and over time, his pregnancy diet plan became a staple topic in many childbirth education classes.
As with everything else, the Brewer Diet has its critics. My main comment about this diet is that it is primarily a whole foods diet consisting of lots of fresh vegetables, whole grains and good quality protein. There are checklists that say women must eat dairy and eggs, but for those who cannot or choose not to, focus on the nutrients, calcium and protein content and track those. Calcium does not need to come from dairy products and can instead be found in many vegetables, legumes, nuts and seeds, and some types of fish. Care should be taken with soy milk and other processed soy products (excluding fermented soy such as tempeh, miso or shoyu), as soy contains phytoestrogens that could affect a woman's hormones and a baby's development.
Here are a few resources for birth professionals and expectant mothers:
The Dr. Brewer Pregnancy Diet website
Joy Jones is an RN who created a very comprehensive website dedicated to the Brewer Pregnancy Diet. It not only has a great deal of information, checklists and links to additional resources, it also maintains a referral list of professionals who support the Brewer Diet. If you would like to have a free listing on her site for your services, you can visit the site and see what the listings are like. Use the contact form to send an email request to be added to the list. Joy lists doulas, midwives, physicians and childbirth educators. Her lists primarily feature providers from the US, but she also has a page dedicated to international providers.
Articles about the Brewer Diet
The Brewer Pregnancy Diet by Joy Jones
Preventing Pregnancy Complications with Nutrition by Amy V. Haas
Prematurity is Preventable! by Amy V. Haas
Brewer Pregnancy Diet-Friendly Recipes
Brewer Diet Recipes on Pinterest shared by Inspired Birth Pro
Recipes by Walking with Dancers – includes links to Pinterest boards with healthy recipes.
Childbirth Education Classes that Recommend the Brewer Pregnancy Diet
Bradley Method of Natural Childbirth
Hypnobabies Childbirth Hypnosis
HypnoBirthing – The Mongan Method
Additional Childbirth Education Resources
13 Resources for Free Childbirth Education Materials and Handouts
Childbirth Education Class Materials by Plumtree Baby
Hypnobabies Hypnosis MP3s for Pregnancy, Birth, Postpartum, and Birth Professionals Too!
Childbirth Education Teaching Aid: Foam Cervical Dilation Chart
Having a Cesarean-in-Awareness
Informative Videos for Childbirth Educators and Doulas